36 Stunning Tiled Shower Ideas To Transform Your Bathroom
The quickest way to add character and charm to a bathroom is by adding creative and unique tiles to the shower. Even our ancient predecessors took great care and persistence in ensuring their baths and spa facilities were tiled with stunning patterns and designs.
It's time we do the same for our bathrooms. The bathroom is supposed to be a place of relaxation and peace. Let's make the shower and bath places of beauty and stunning design. Whether you're looking to invoke modern stylishness with subway tiles or channel traditional classiness with marble panels, these shower tile ideas will help turn your bathroom into a spectacle of delight.
Floor to Ceiling Marble Wonder
Nothing says beauty like floor-to-ceiling marble. You can even get tiles of marble that are so seamless, it will look as if your shower is one giant sheet of marble rather than individual tiles.
Basketweave White
Try laying tile in an interesting pattern or get a style of tile that already comes that way. This basketweave subway tile adds a different look other than a traditional white subway tile.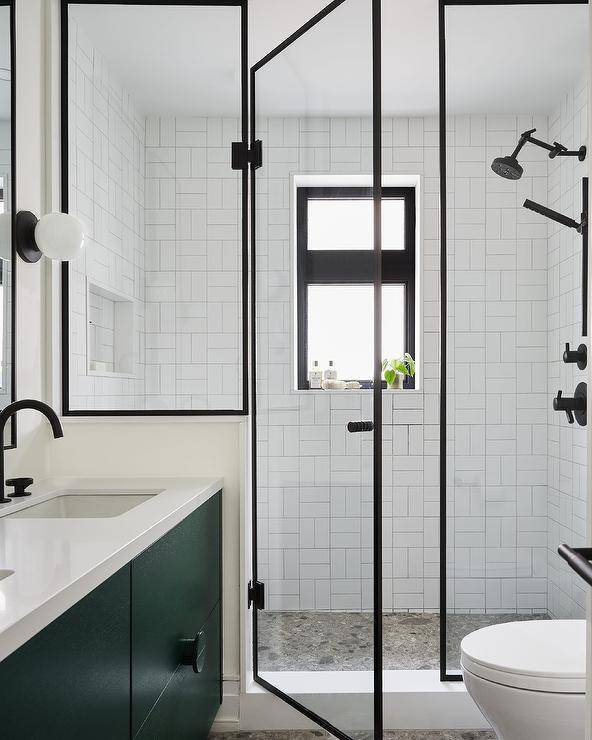 Floor Tiles
Don't forget to put some charm and character on the shower floor. Tiles aren't just for the shower walls; if you have to tile your shower floor, you might as well go with something fun and unique.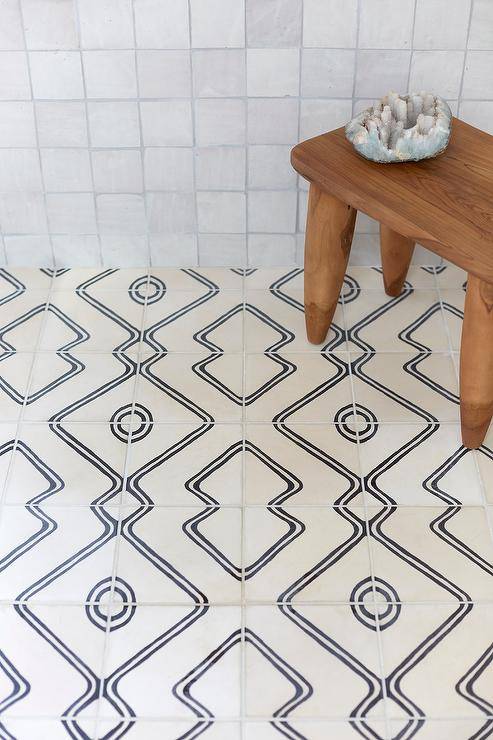 Classy Gold
Nothing classes up a bathroom faster than gold. The gold mosaic tile in this shower is a beautiful complement to the gold hardware and shower kit.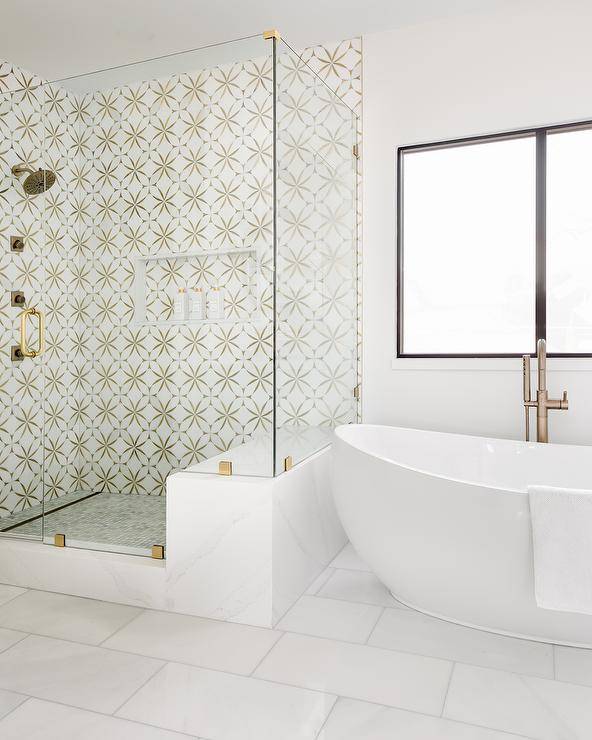 Tiled In Design
You don't have to carry your pattern tile throughout the whole shower. A framed tile feature acts as a stunning art piece in this shower.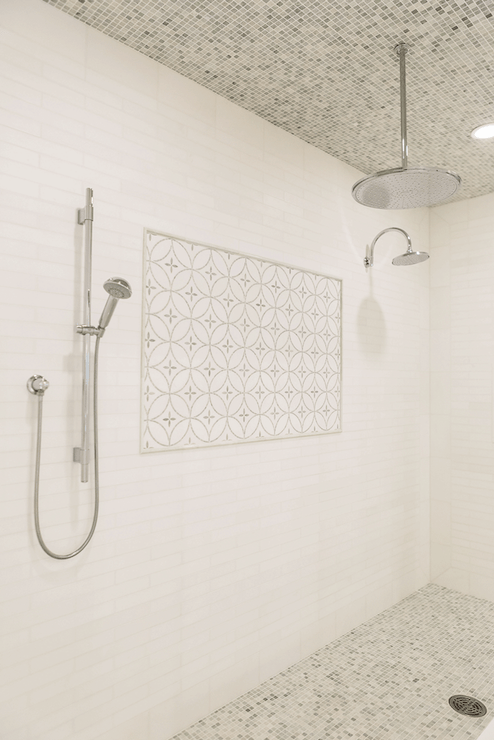 Mosaic Beauty
This shower is a work of art! The mosaic tiles come together in a thought-out intricate pattern to create a stunning piece of art.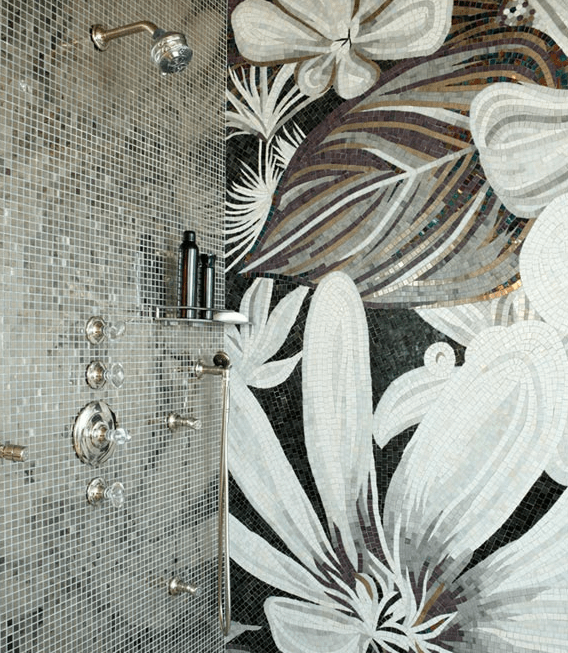 Edgy with Green
Do something daring with your shower. These bright green subway tiles create a modern and bold look. Add that with the contrast of the white marble shower floor and bench, and you have quite the fierce look.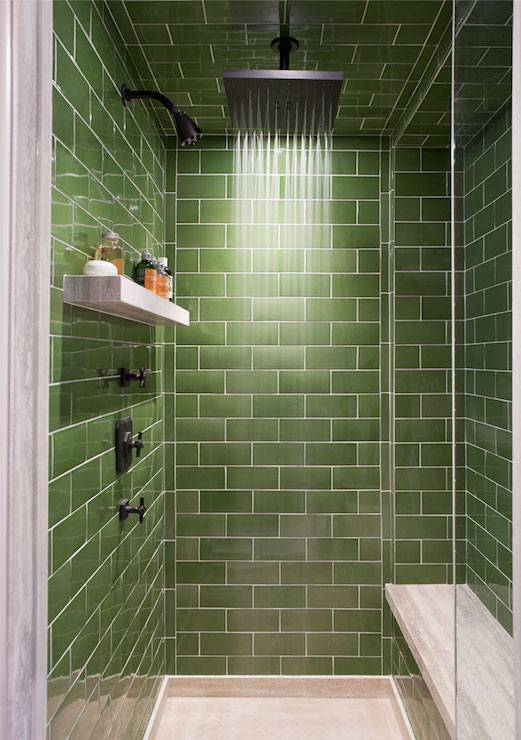 Glossy Teal
Subway tiles aren't just white. You can get them in fun, bold colors to create an eye-catching tiled shower. I love the glossy look of these teal subway tiles. Notice how the teal is carried through into the fun mosaic pattern of the floor tiles.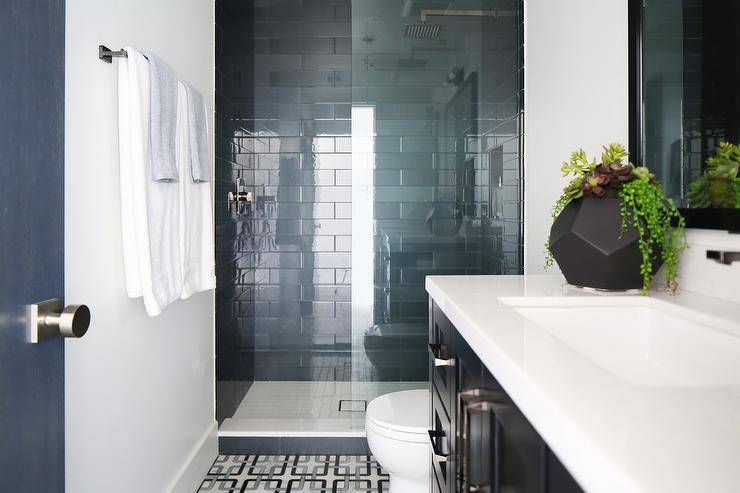 Dramatic Pinwheels
An eye-catching display of dramatic pinwheels makes for a delightful and charming tiled shower.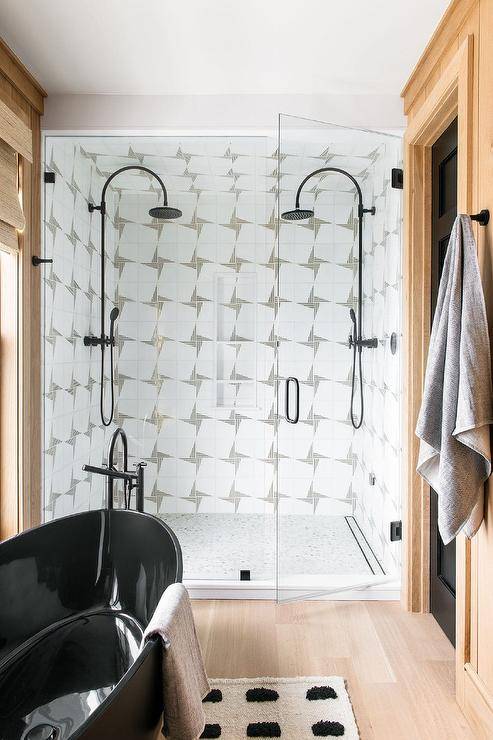 Pebbled Tile
Tiles aren't always flat and smooth. You can have many different textures and styles. This homeowner created a textured stone wall look in their shower which would make one feel like they're right at the spa.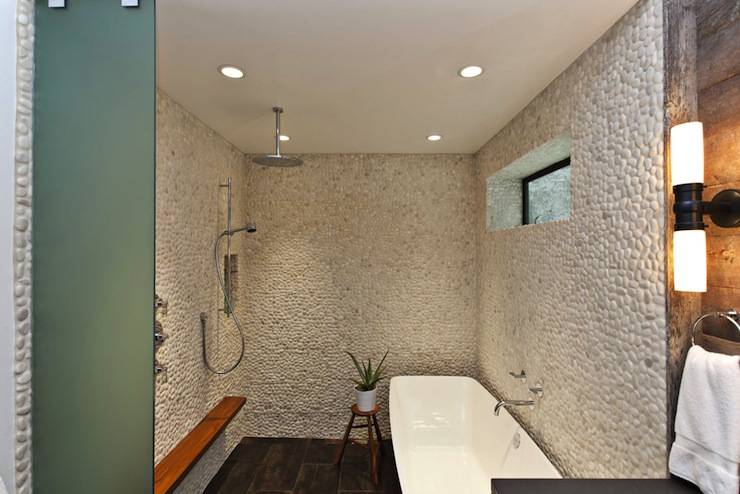 Soft Blue Mosaic
Bright and bold colors of mosaics don't always have to jump out at you. This Spanish blue mosaic tile is small but pulls this space together. Blue and brass can go together anytime — it looks so good together!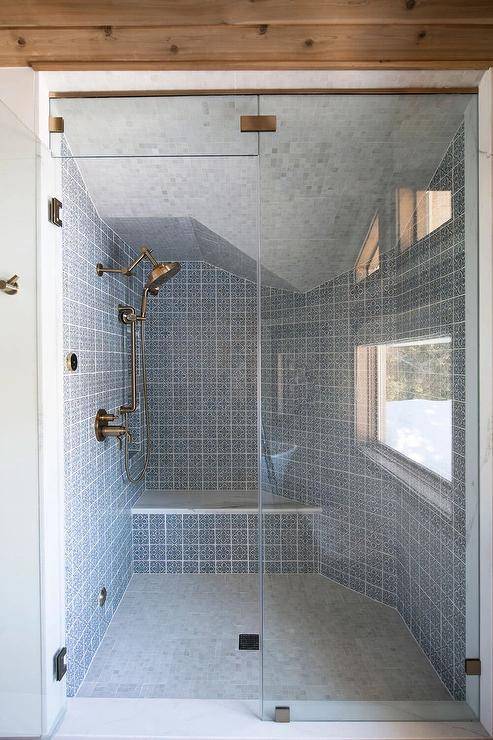 Deep Blue Chevron
Think about placement when you are laying tile. You don't always have to opt for straight across — shake things up by making a fun chevron pattern.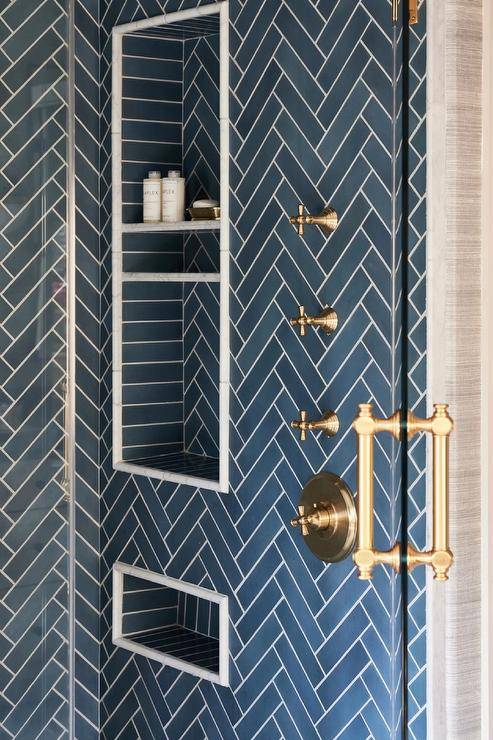 Go Round
Pick out tiles with a round pattern for something unique and distinct.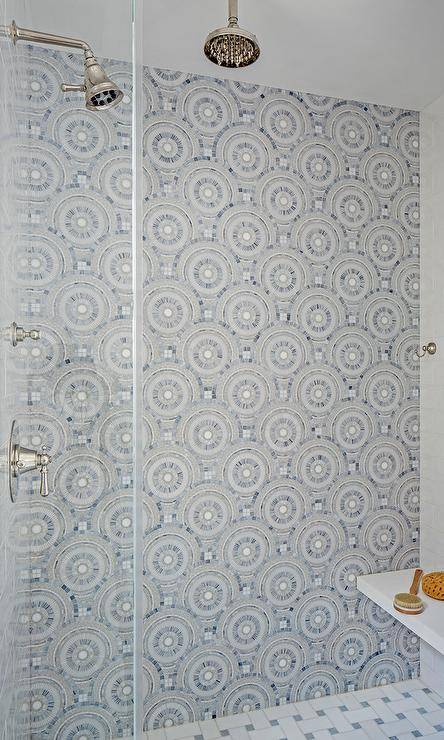 Or larger round and more spaced out.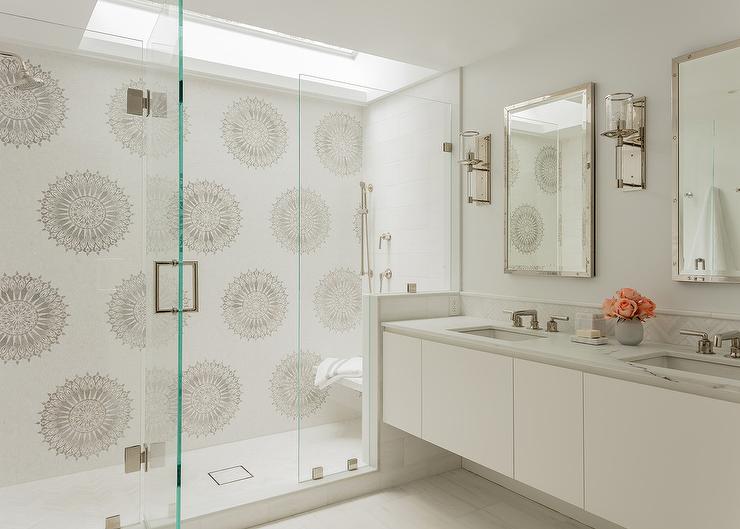 Bright and Bold
Blue is a trendy color for the bathroom. You can't help but feel calmer and at peace when around blue, but that doesn't mean you can't go bold with your shower tile pattern. Give your bathroom character and allow the shower to be the showstopping piece.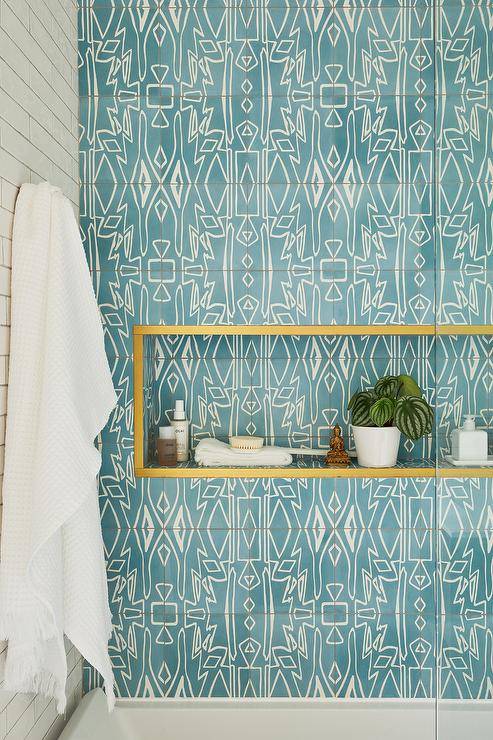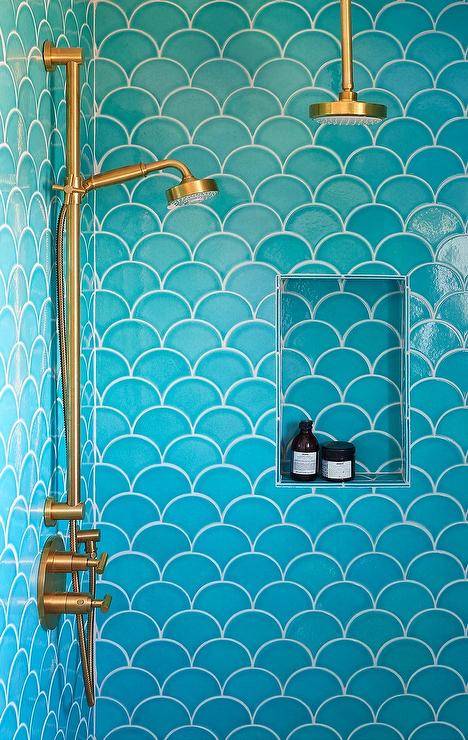 Go With a Classic
A classic marble subway tile will never go out of style, and if you want to shake things up a bit, you can lay your tile in a different pattern, such as chevron.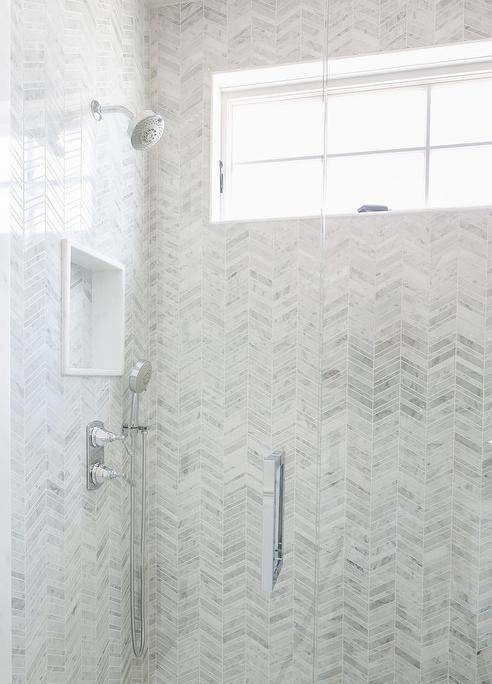 Large Marble Tiles
If you're working with a smaller space, try larger tiles. Large tiles will make your area feel much bigger than it is; of course, you can't go wrong with luxurious marble.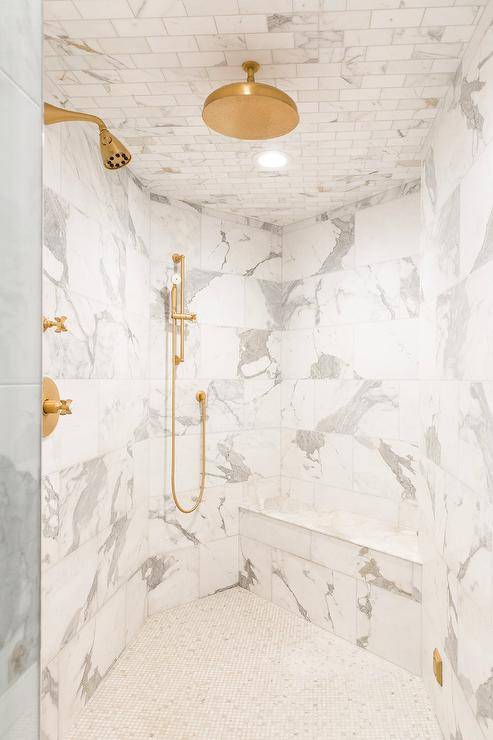 Mosaic Everywhere
If you love a mosaic tile, go big with it. Consider tiling a matching bench, too. This seamless design will make your shower feel taller than it is by continuing the tile throughout the entire shower.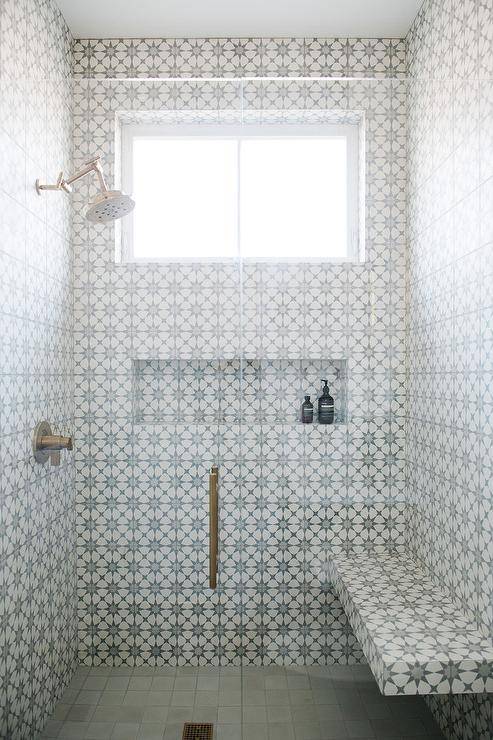 Half and Half
Half and half allows you to play around with different tile types and pull in more than one style. Choose and simple tile and pair it with a bolder pattern for a distinctive look.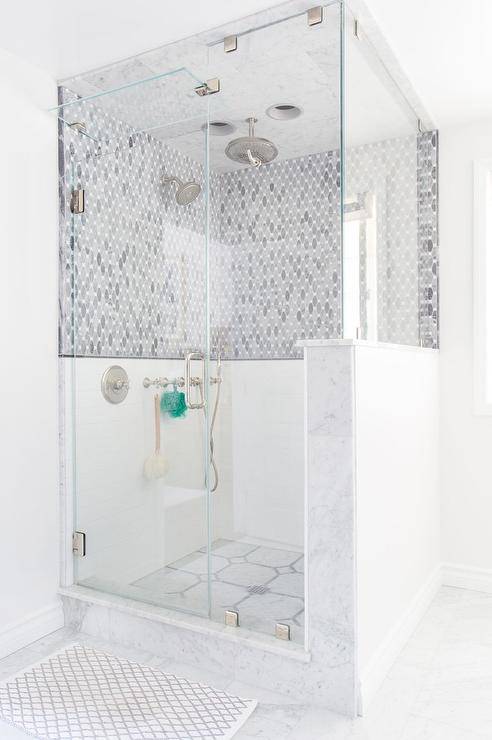 Grey Subway
We will never tire of subway tile, especially if it's a simplistic yet classy grey. Paired with a brass shower kit, this look has moody written all over it but in a totally good way.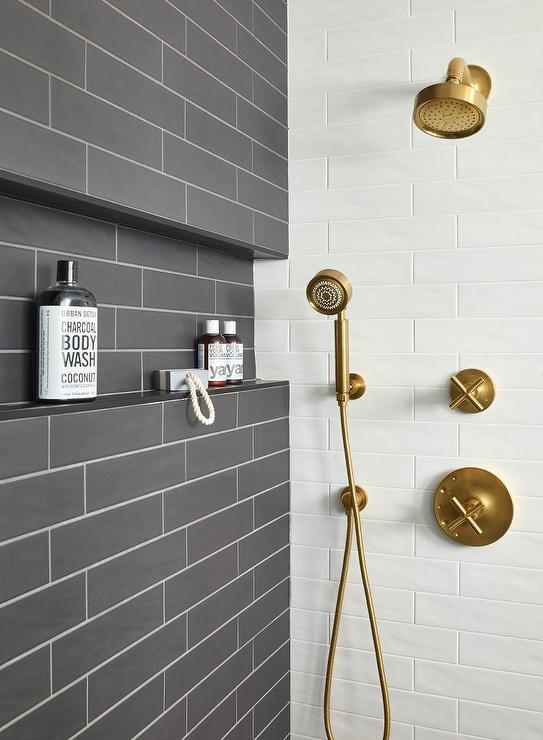 Penny Pink
A tile as old as time is resurfacing. Penny tiles are a classic option that first graced many kitchens and bathrooms in the early 1900s. However, they're making a big comeback in the contemporary tile world. Once a classic, always a classic but this time, they are coming back with color in mind.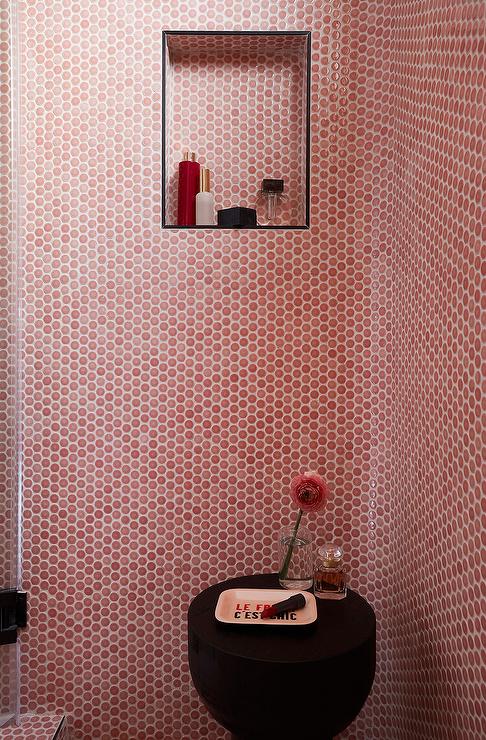 But of course, white is always a classic choice, too.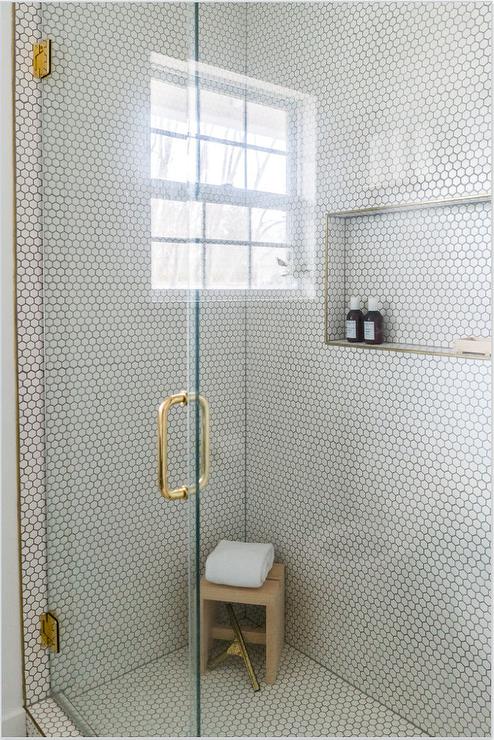 You can also go with two different penny tiles colors and then arrange them to make a fun stripe pattern.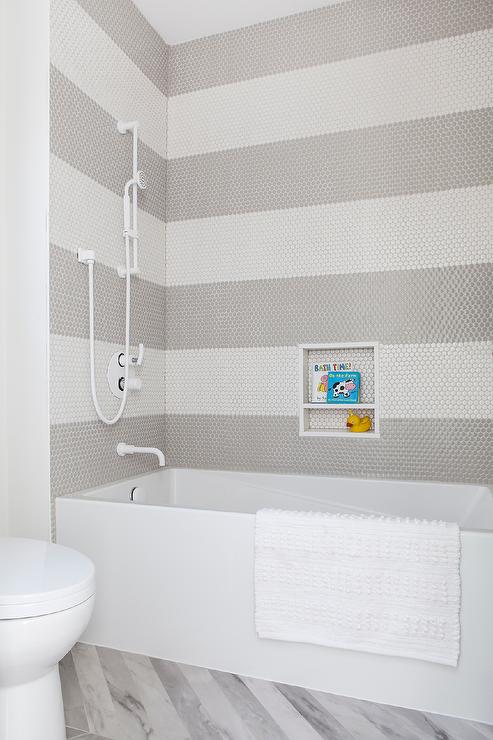 Fan Shaped Tile
Tile comes in all shapes and sizes, and when you shake up your tile from the traditional shapes, you will not only give a unique perspective to your bathroom, but you add beauty and elegance that is different and unexpected.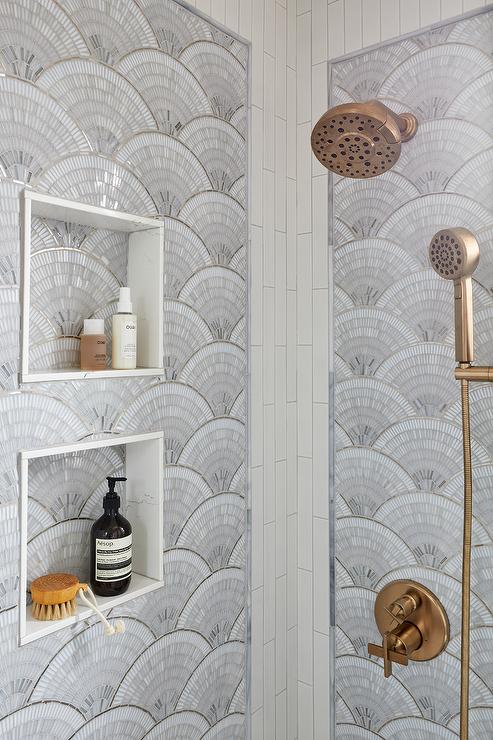 Go Green
Kelly green is not a color you would often think of for the bathroom, but it works in creating a remarkable and entertaining space. If you're going to go big with green, a bold pattern shower curtain completes the look.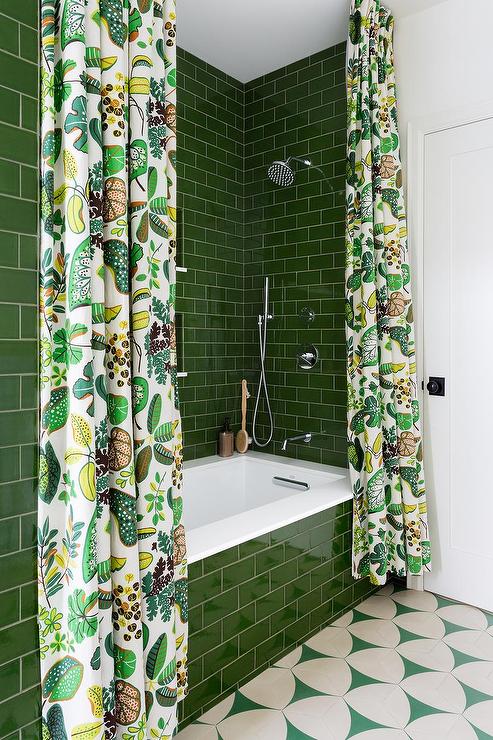 Black Marble Herringbone
Dark and moody are ok and can bring an atmosphere to your bathroom that is surprisingly quite relaxing if done correctly.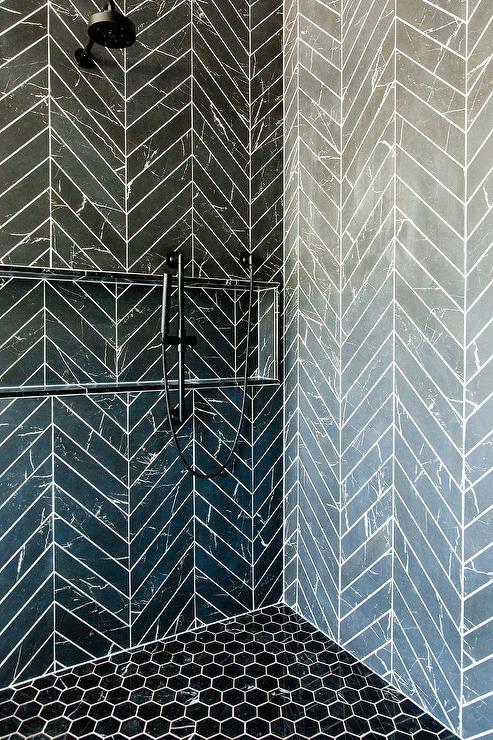 Those Baby Blues
You can carry the shower tiles up to the ceiling of the shower as well. A little alcove space that is fully tiled makes the shower the focal point of this bathroom.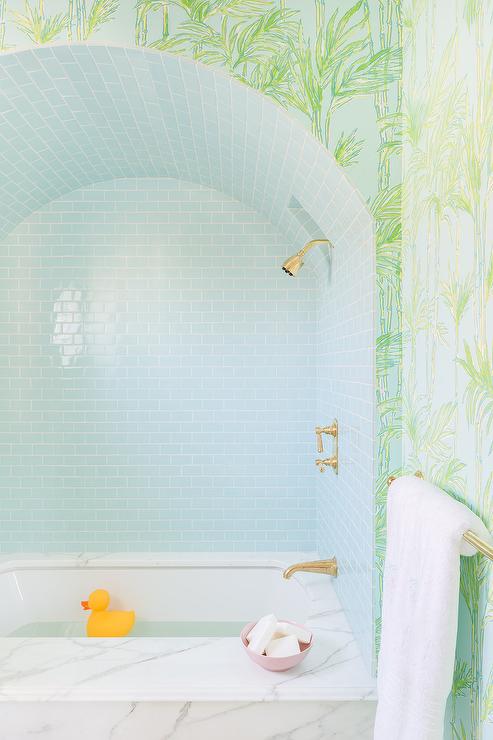 Match the Floor
You can bring the floor and shower together by taking some of the same tiles on the floor and making a little notched-in shelf in the shower using the same tiles.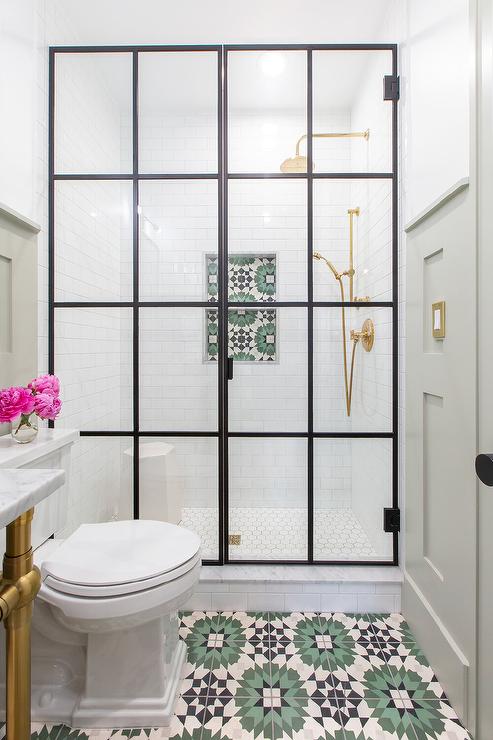 Black and White Check
The black and white check shower tiles give off subtle reminders of the 80s but with a modern twist.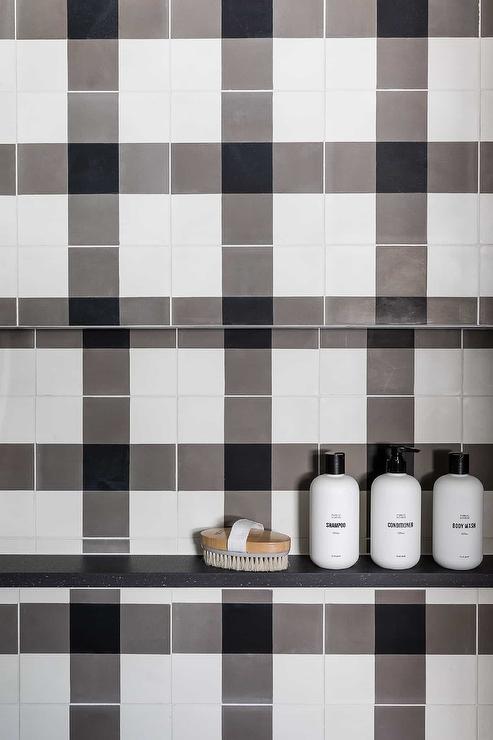 Make it Art
You can get wall tiles that look as if you wallpapered your shower. This stunning, classy design looks great against the black and white checker floor.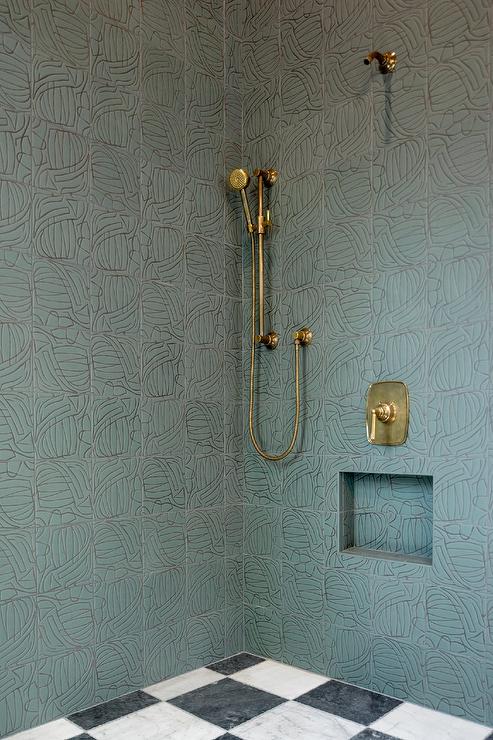 Simple and Classic
If you want to keep things simple and classic, white or black subway tile will do the trick. This type of shower tile won't date itself so fast and is excellent for those that want something that will withstand the trends.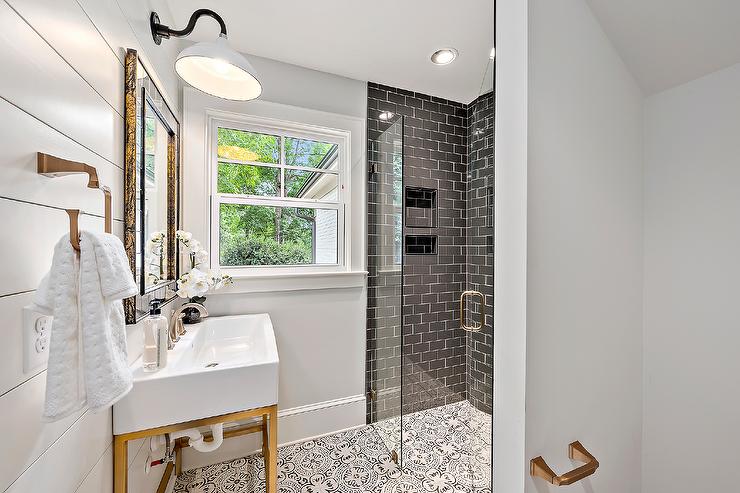 Pair with Wallpaper
Pair your tile with fun wallpaper by picking out accent colors and then matching both.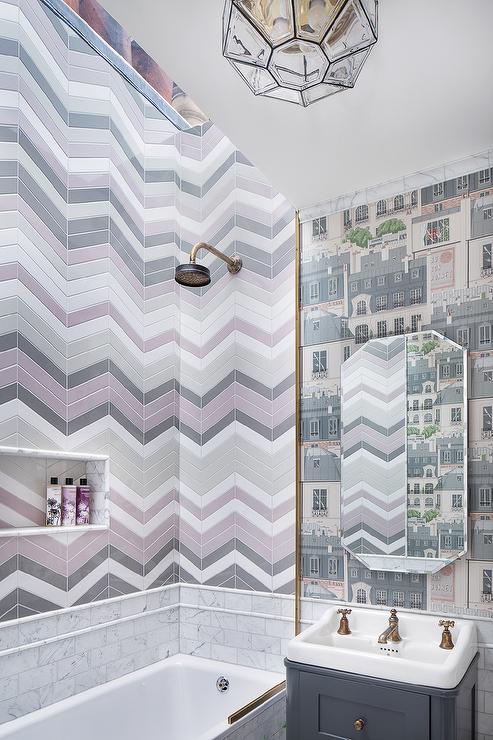 Modern Mosaics
To make a statement with your shower tile, forget about white subway. There are so many fun, bold and modern tile patterns that you can get. Picking out tile should reflect your personality, so if you are brave and daring — go for a design that says that, too!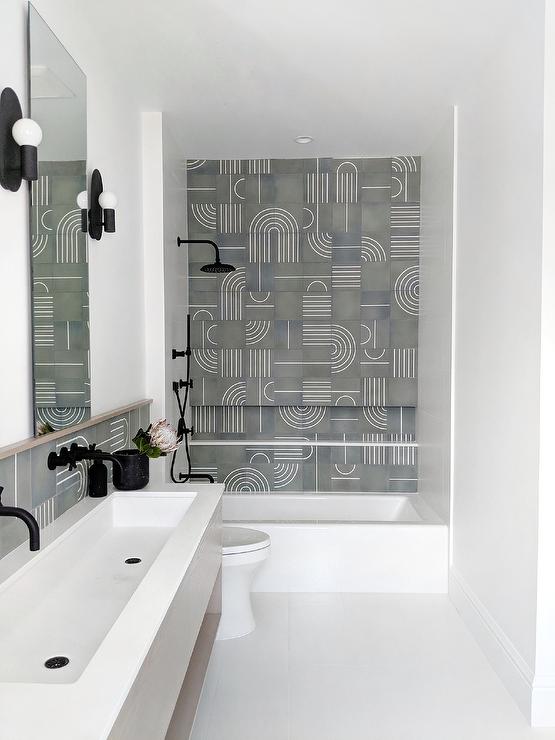 Scalloped Shower Tile
Gold and gray are two colors you don't often see together, but this shower tile proves that maybe we need to see it a little more. It's classy and elegant without being too over the top.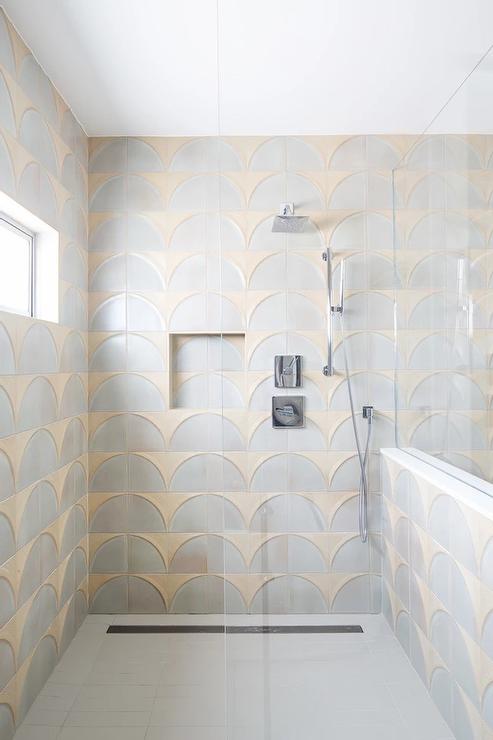 Best Tips for Picking Out Tile
Consider the style and theme of your bathroom – make sure you know the style of your bathroom before you pick out your tile. The tile should match the vibe of the room.
Stick to one showstopping tile – you don't want two or three tiles competing against each other.
Take maintenance into consideration – if you don't want to spend your life cleaning tiles, make sure you choose a low-maintenance tile that is easy to clean.
Stick to your color palette – create a color palette for your bathroom and stick to that, especially when choosing your tile.
Come up with a budget – Tile prices can range greatly, so it's essential to know your budget before you head to the store.
Determine how much you need – this is best figured out before you head to the store to buy your tile.
Frequently Asked Questions (FAQs)
What tile is best for showers?
The best tiles for showers are ceramic and porcelain tiles. These tiles work best for shower floors and are a good fit for shower walls, thanks to their waterproof and non-slip qualities when glazed.
How much does it cost to have a shower stall tiled?
The average range for a fully tiled shower is around $1,800 to $4,000, including the pan and 3 walls. This cost will vary depending on the size of your shower, shape, and the tile you choose. Many companies will provide free estimates, or if you are a seasoned DIYer, you may consider tiling your shower yourself, which will help save some cost.
Is it cheaper to do a shower stall or tile?
Generally, prefabricated showers are much more affordable than tiled stalled shower stalls, often hundreds of dollars. While you will save money on a prefabricated shower, a tiled shower is a better and prettier option if you are after character and charm.
Should a shower be tiled?
The most straightforward answer is no; a shower doesn't technically need to be tiled for functionality. Tile is just one of many options for designing and building a shower. If you want something that will add value and charm to your home, you have many more options if you decide to tile.
What size tile makes a shower look bigger?
Using large tiles in a small shower can actually make it appear larger. That's because there are fewer grout joints, reducing the lines.
What is the easiest shower tile to keep clean?
Some of the easiest shower tiles to keep clean are natural stone tile, glass tile, polished porcelain tile, and vinyl tile. Bathroom tiles should be cleaned regularly to prevent bacteria build-up. The longer you leave them without cleaning, the more complex the grime will be to remove.
Can I tile my shower myself?
Tiling a shower by yourself can be especially hard. If you're confident in your skill level and attention to detail, go for it! If you're unsure or leary in any way, it may be in your best interest to call in an expert. Regarding tiling, you want to ensure that you are putting in perfection to provide a stunning and functioning result.
If you need more help in the bathroom, check out these related articles: