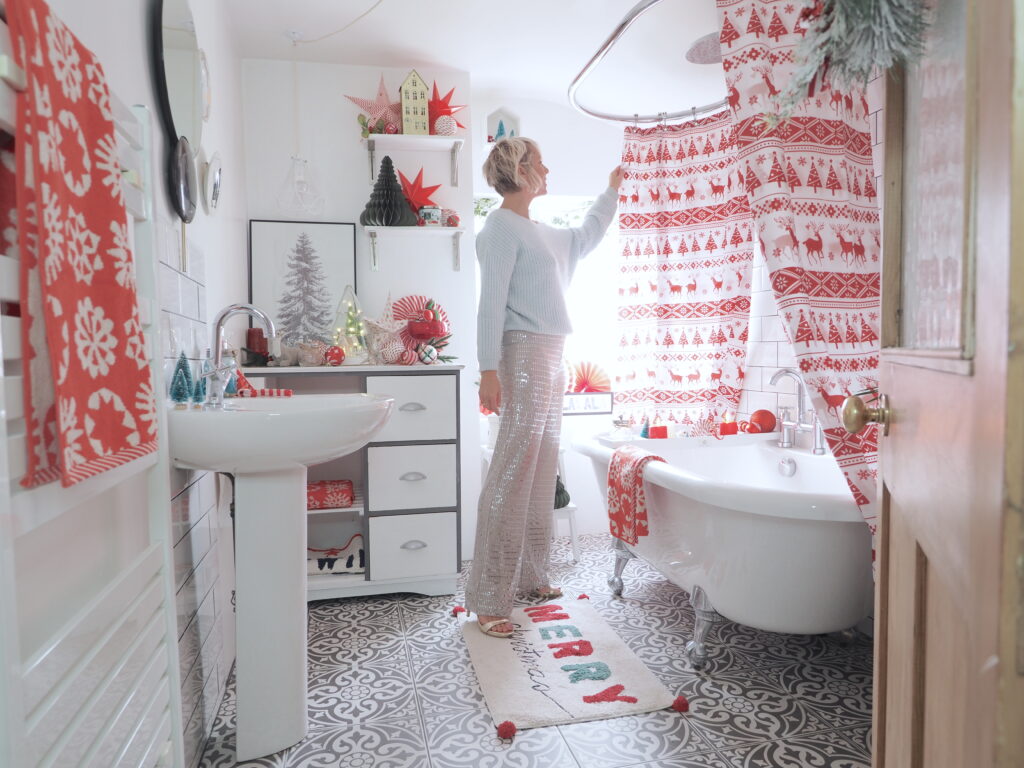 How To Style A Christmas Bathroom: Enter To Win A £300 Voucher With Triton Showers | Maxine Brady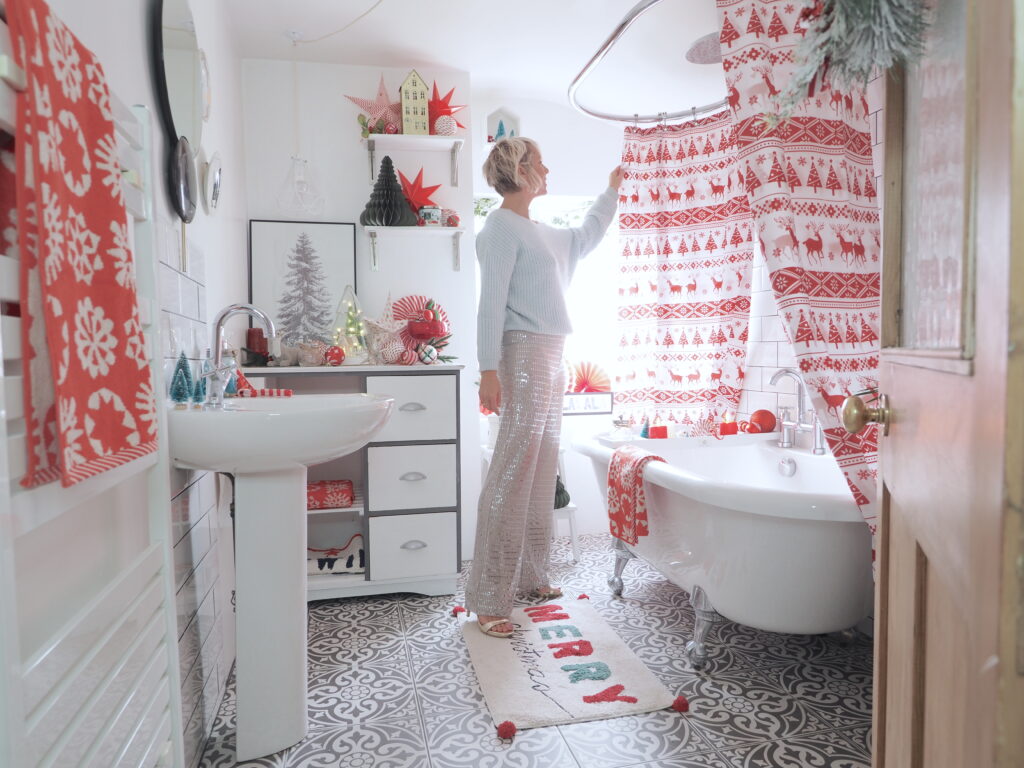 Decorate your bathroom this Christmas and you could win a £300 Love2Shop voucher with Triton Showers.
Are you a Christmas fanatic? Does it bring you joy to decorate every inch of your home? Then why don't you turn your attention to to your bathroom and sprinkle Christmas magic into this space! And your creative efforts could win you a bundle of bathroom goodies from Triton Showers.
To help you style the perfect Christmas bathroom, I'm going to share with you 6 festive bathroom styling tips..so read on!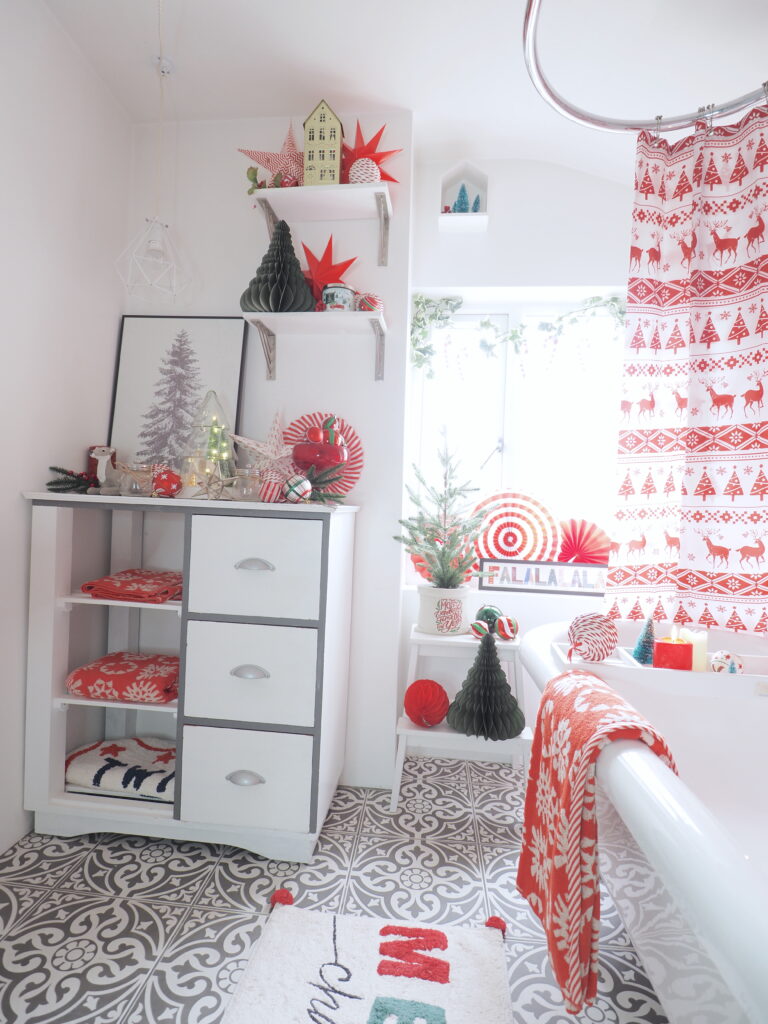 Competition Time With Triton Showers
Triton Showers are asking you to submit photos of your festive bathroom into their Christmas competition. And they have a whole host of prizes to give away including: a £300 Love2Shop voucher and an eco bathroom bundle. And four runners up will also receive an eco bathroom bundle each worth £34.99.
TO ENTER: Simply submit a photograph of your festive bathroom in the comments section of the Triton Showers Deck the Stalls Facebook page. Alternatively, submissions can be made on their Instagram account by uploading a photo of your bathroom with the hashtag #DeckTheStalls and tagging @tritonshowers in the post.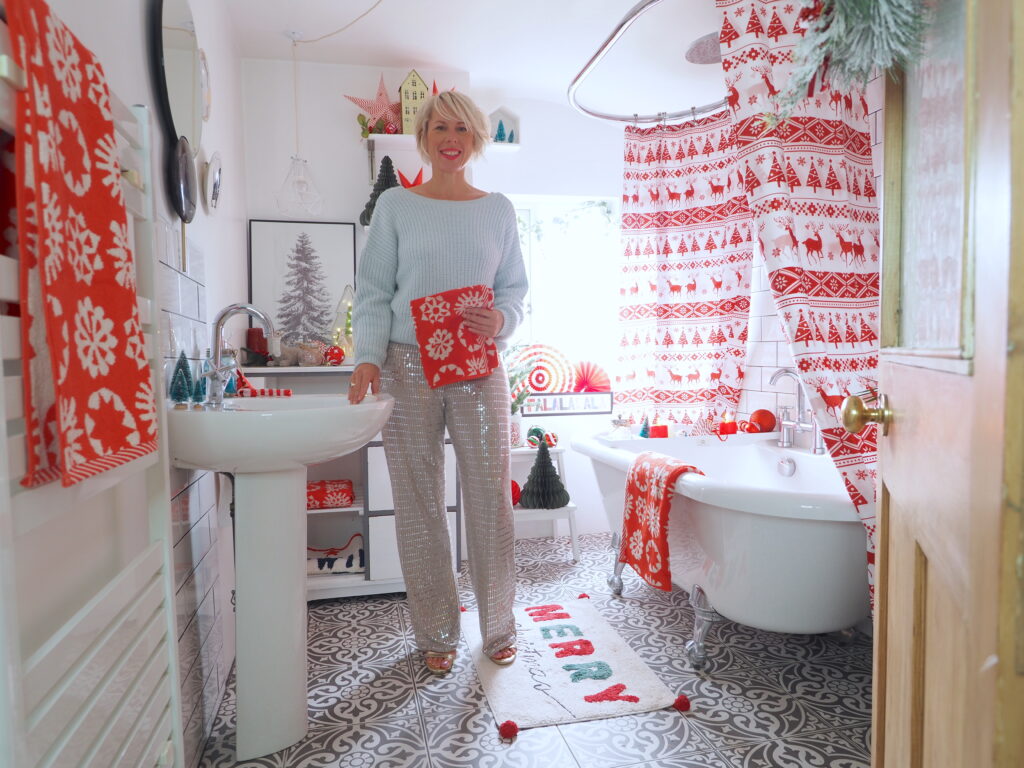 6 Styling Tips To Give your bathroom a Christmas glow up
Want some ideas on how to style your bathroom for Christmas? Follow my tips below and you'll be winning the Triton Showers Christmas 2022 bathroom competition in no time.
1. Add Christmas Textiles To Your Bathroom
Start by swapping out your shower curtain for a festive one. There are so many prints to choose from – like candy cane designs, winter scenes or even Santa motifs. I found this jolly red reindeer shower curtain on Amazon for £11.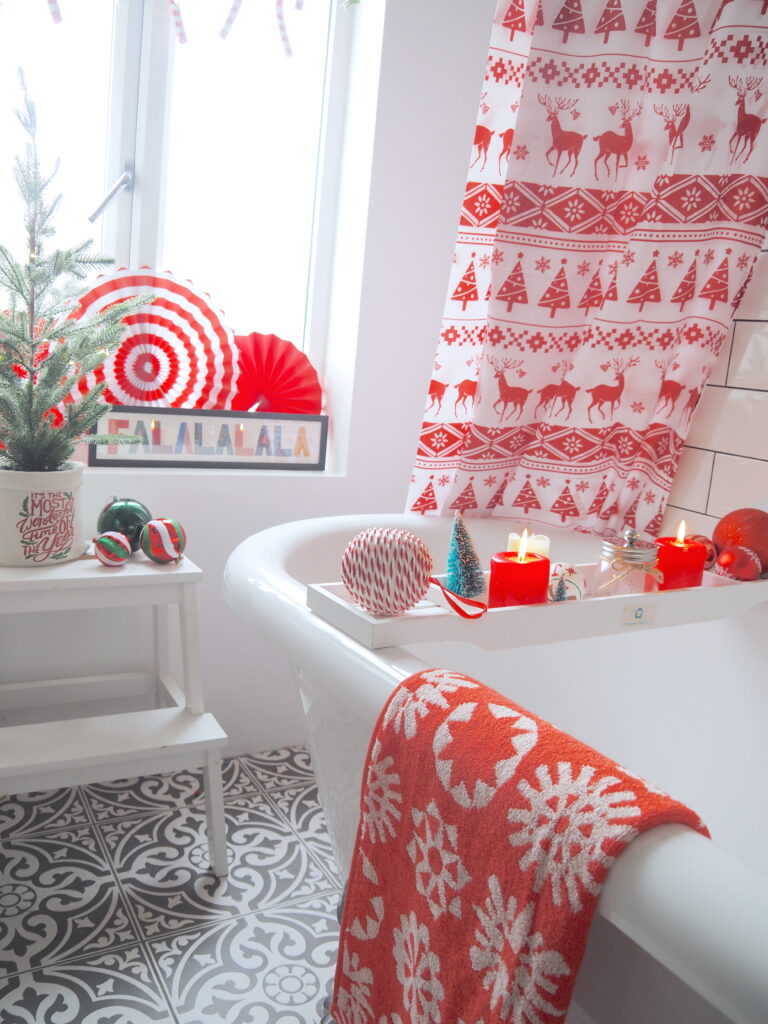 Next, invest in new guest towels decorated with a festive print. Your visitors will love having a set of Christmas towels to use for the duration of their stay. This 4-piece snowflake towel set is from Habitat for £32. I love how cheerful this set looks in my bathroom space.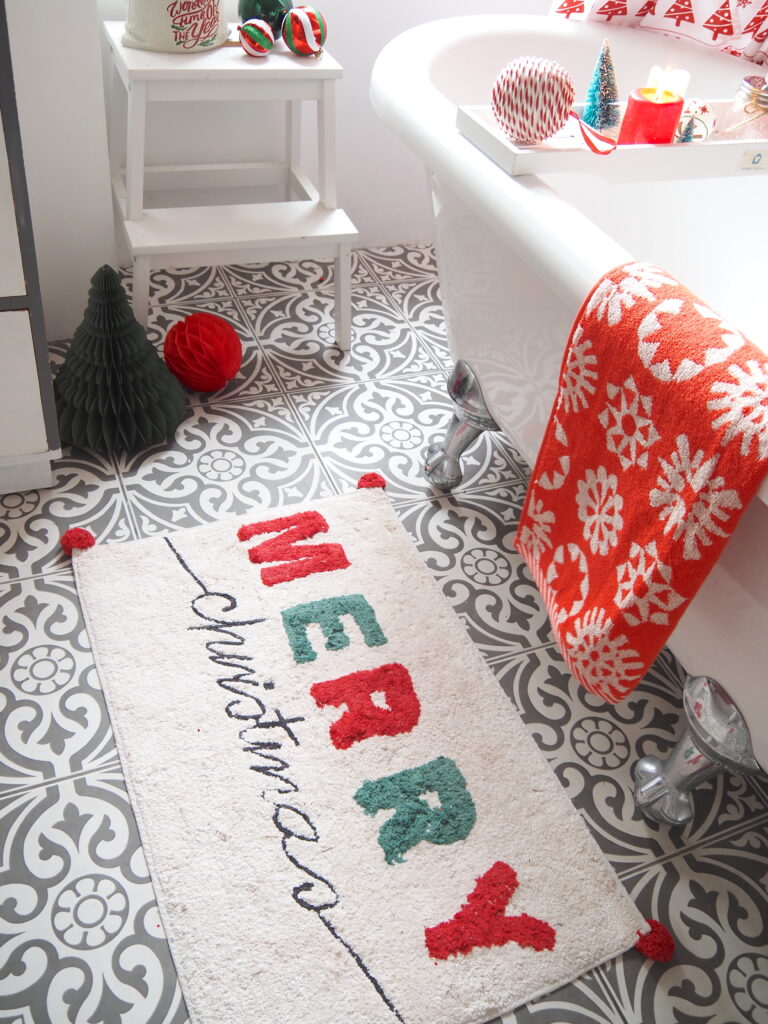 Finally, why not fill your floor with a seasonal bath mat – this one has a 'Merry Christmas' slogan and little tassels. Yes…it's a bit extra but so is Christmas!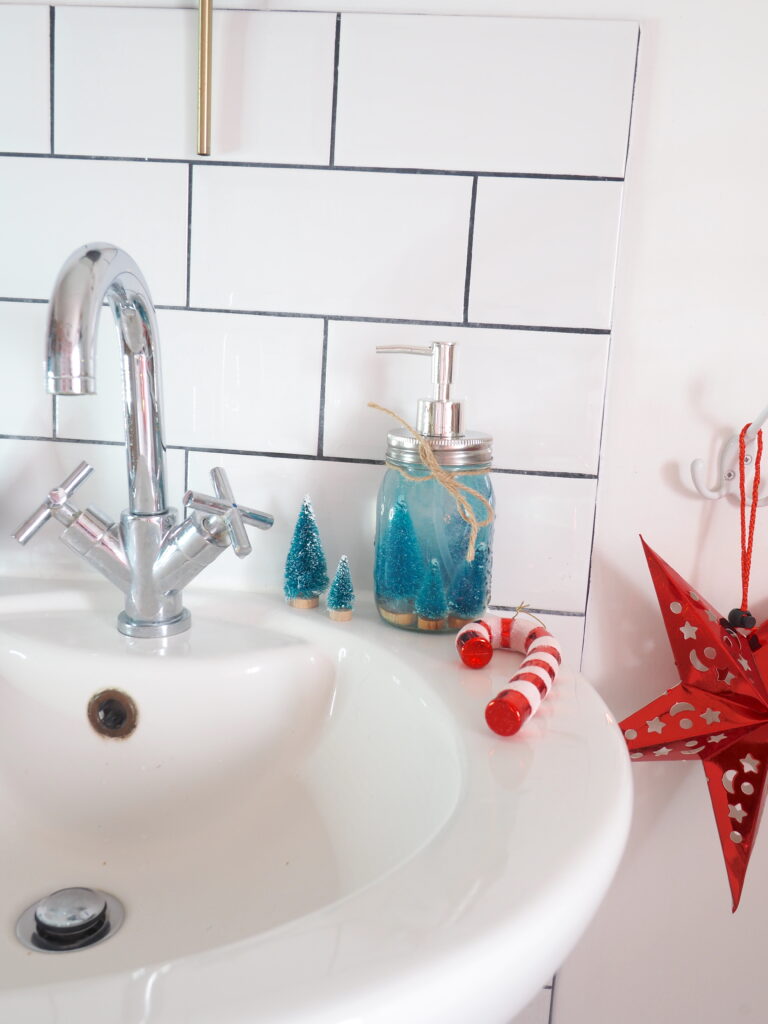 2. Craft a Christmas tree soap dispenser
I found this cute crafting idea on Pinterest and had to share with you. You can find this mason jar soap dispenser on Amazon (£15.99). Super glue mini decorations to the bottom of the jar. I choose little Christmas trees but you could try any mini tree ornaments. Once they are glued in place, fill to the brim with clear liquid soap. Then place on your sink or in your shower.
READ: DECORATE YOUR CHRISTMAS TREE WITH MY 24 EXPERT TIPS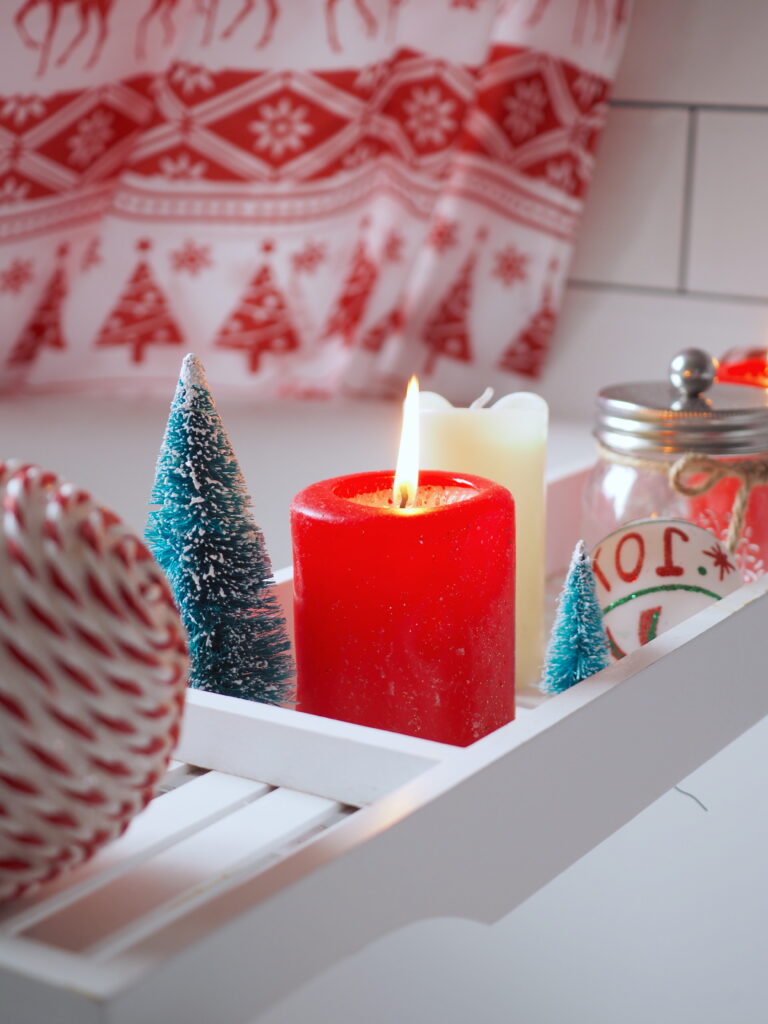 3. Fill your bathroom with Scented Candles
If you love taking a shower or bath under candle light, then look out for Christmas scented candles that will fill your bathroom with the aroma of pinecones or spices.
Next has a range of candles with fragrances called 'Winter Berry', 'Clear Forest' and 'Cookies with Santa' that all smell delicious. The aroma of scented candles will create a relaxing atmosphere in your bathroom during the busy Christmas period.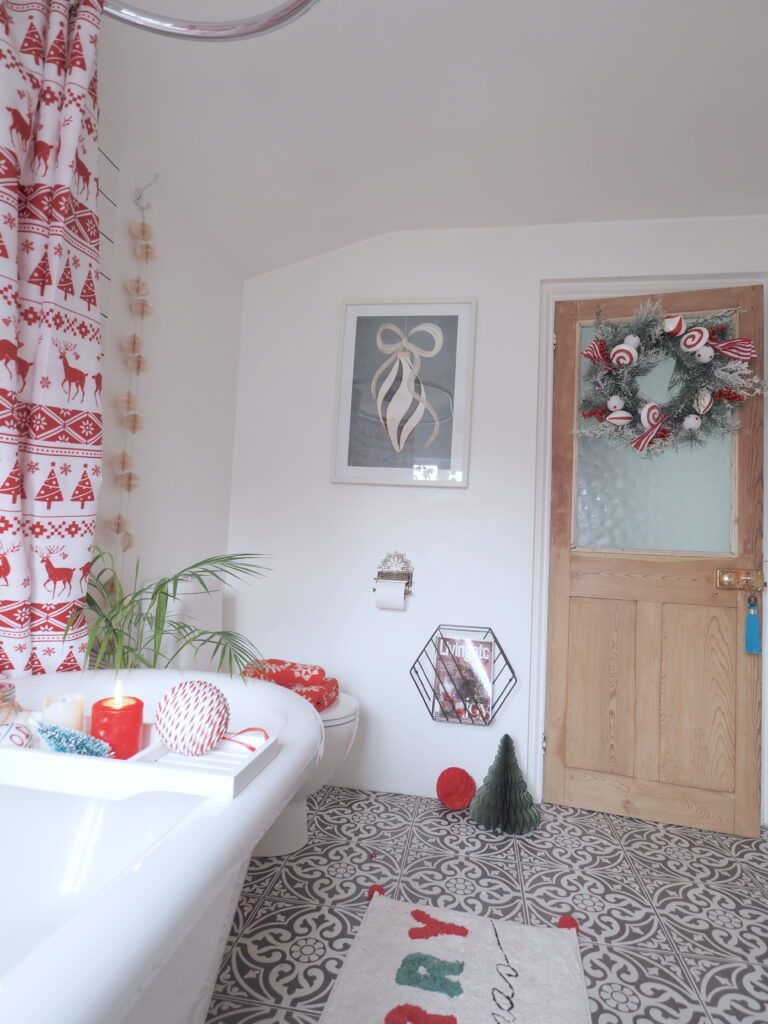 4. Hang a Festive wreath
Have you ever thoughts about hanging a wreath to your bathroom door? Hang on a hook on the back of your door or tie in place with ribbons. It's a chic way to style Christmas into your bathroom.
READ: 5 TIPS ON HOW TO DECORATE YOUR WINDOWS & DOORS THIS CHRISTMAS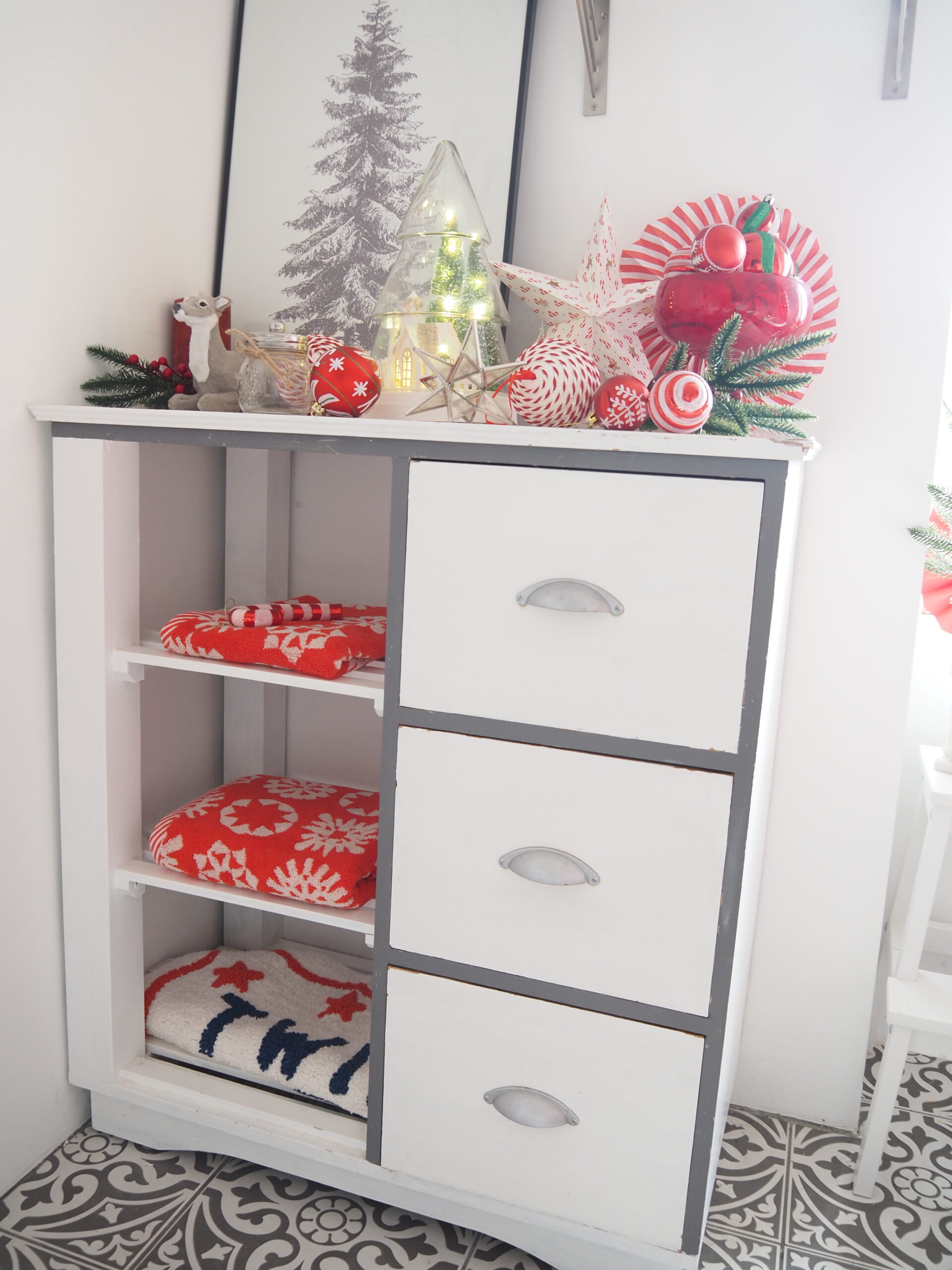 5. Swap out your artwork for festive prints
One way to bring Christmas cheer to your bathroom is with seasonal prints. Desenio stock a wide range of inexpensive posters that come in both modern and traditional styles. I swapped in a print of a Christmas tree on my cabinet, and hung a stylised print of a bauble with a ribbon that matched the colours of my bathroom perfectly
Alternatively, you can frame your favourite Christmas cards for a quick and easy way to update your bathroom space.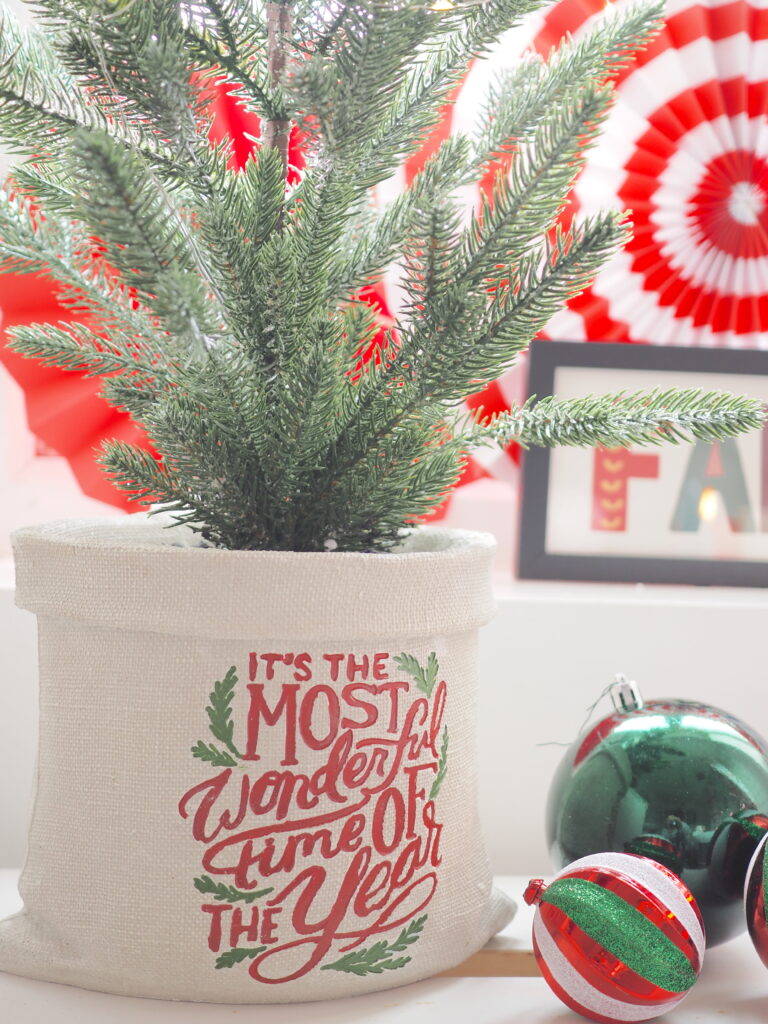 6. Decorate your bathroom with a Christmas tree
Is it Christmas without a tree? Not in my book. And yes…I'm here to tell you that can have a tree in your bathroom. I would suggest, due to the steamy conditions of shower rooms, to opt for a fake one. I found this fake Christmas tree from Matalan that is the perfect size. Place on a stool or storage unit to raise it up so it can take centre stage in your bathroom.
READ: HOW TO DECORATE YOUR CHRISTMAS LIVING ROOM FOR £100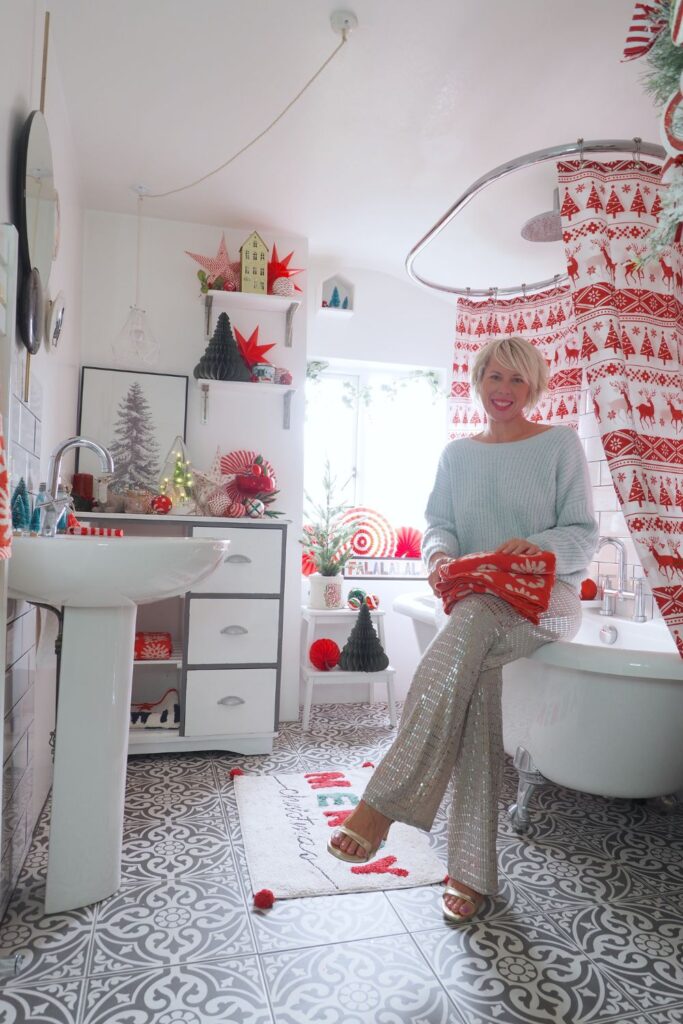 Enter Your Festive Bathroom And Win Goodies WIth Triton Showers
If you're feeling inspired to decorate your bathroom for Christmas, then don't forget to share your photos with Triton Showers on their socials channels for your chance to win. Imagine having a £300 Love2Shop voucher to spend on your home! That would be a great way to celebrate Christmas in 2022, wouldn't it now?
Triton Showers contest opens from 12am 14/11/22 and closes 12/12/22 at 23:59. For full Ts&Cs click here: tritonshowers.co.uk/deckthestalls
What do you think if these Christmas bathroom styling ideas? Let me know below.
Collaborative Post