Do you need architect drawings for an extension?
An extension is the perfect option to expand your home when moving isn't possible. So, with more and more homeowners in Ipswich, Suffolk, and the surrounding areas looking to invest in a spacious extension, increasing amounts are getting in touch to find out the answer to the following question:
Do I need an architect to draw plans for a new extension?
The simple answer is no, you don't need an architect to draw plans for your new extension. Unlike many European countries, the UK doesn't legally require you to hire an architect for any building work. However, it all depends on how complex the extension design actually is. Architects are usually required when there are major structural alterations involved. That said, our team of experts has decades' worth of experience in meeting strict building regulations to share with you.
Can I do my own drawings for an extension?
You can, but it's always wise to get help from an expert, especially when planning permission is required. But remember, not all architects will have the relevant knowledge or experience for designing and overseeing your specific extension project. This is where our innovative conservatory design software comes into play.
Learn more with our innovative interactive extension designer
With SEH BAC, you can use our cutting-edge extension roof designer to create the extension space of your dreams with ease. Simply visit your closest SEH BAC showroom and our friendly team of experts will help you to choose the best size, style, roof type, colours, and optional interior finishing touches like an extended internal plastered soffit system or a modern overhang on the roof to shelter the doors. No matter how complex your new extension plans are, we're confident we can meet and exceed all your expectations.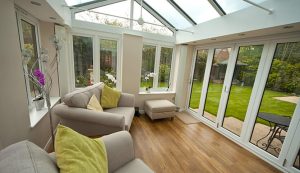 Get inspired by browsing through some of our home extension case studies
Installing a Loggia conservatory – Mr & Mrs Smith
This p-shaped Ultraroof conservatory is a room for all seasons – Mrs Kerr
High performance glazed extensions for homes in Essex, Suffolk, Hertfordshire & Surrey
From simple kitchen extensions to large-scale home extensions and everything else in between, a made-to-measure home extension designed and installed by SEH BAC is sure to enhance your home's kerb appeal as well as its resale value. Visit our online gallery, get a price, or contact us online to learn more about our striking home extension installations.